When this challenge was proposed, I immediately thought of recreating a dish Darrick and I had eaten recently while traveling—fried cauliflower with Cajun aioli.
But then I remembered the hard work I've been doing at the gym, along with my at-home workouts, so I decided to go a different route.
Another reason to ditch my original idea is that I had volunteered to make a picnic for friends, and I knew that fried cauliflower would NOT travel well!
When I first got an air fryer, all I used it for was fries, tater tots, hand pies, and veggie nuggets.
But I pretty quickly realized that air fryers aren't frying at all…
An air fryer is actually just a small convection oven that uses extra hot circulating air to cook things really crispy.
So I decided to use the machine to roast some of my favorite veggies in a new way—a way that turned out to be quicker, easier, and way less of a mess!
I started with bourbon roasted beets.
No preheat time was required, so getting them wrapped in aluminum foil, into the fry basket, and beginning to cook took all of 2 minutes!
After 20 minutes, I added a pepper.
I love freshly roasted peppers, but charring the skin on my stove always creates a huge mess!
I flipped the pepper once…
When the skin was charred on all sides, I removed the hot pepper and wrapped it in plastic wrap to steam. This makes the skin slip off.
After stemming and seeding, you are left with sweet and tender roasted peppers to use how ever your heart desires.
I added mine to a salad with olives, cucumbers, tomatoes, and feta.
It was not only super easy, but roasting your own pepper is way cheaper than buying the ones from the store.
The beets were on the larger side of medium and took the whole 40 minutes to roast.
When they came out, they smelled sweet and earthy with a touch of the woody aroma from the bourbon.
I used an old towel to remove the skins. It messes up the towel, but makes peeling the beets a snap.
They were still steaming when I added them to an extra large hummus sandwich.
Normally I wouldn't think to roast beets on a Monday because it seems like a lot of trouble, but the air fryer totally changed the process.
The "fried" veggies completely transformed my humble ingredients into a more flavorful and special meal.
This was good because I used the salad and sandwiches as "payment" for our very first sailing lesson.
We ate our "fried" veggie picnic on a sail boat just as the sun was setting. There was a gentle breeze, the laughter of friends, and ice cold cider to wet our whistles.
Yes, it was as magical as it sounds!
Air "Fried" Bourbon Beets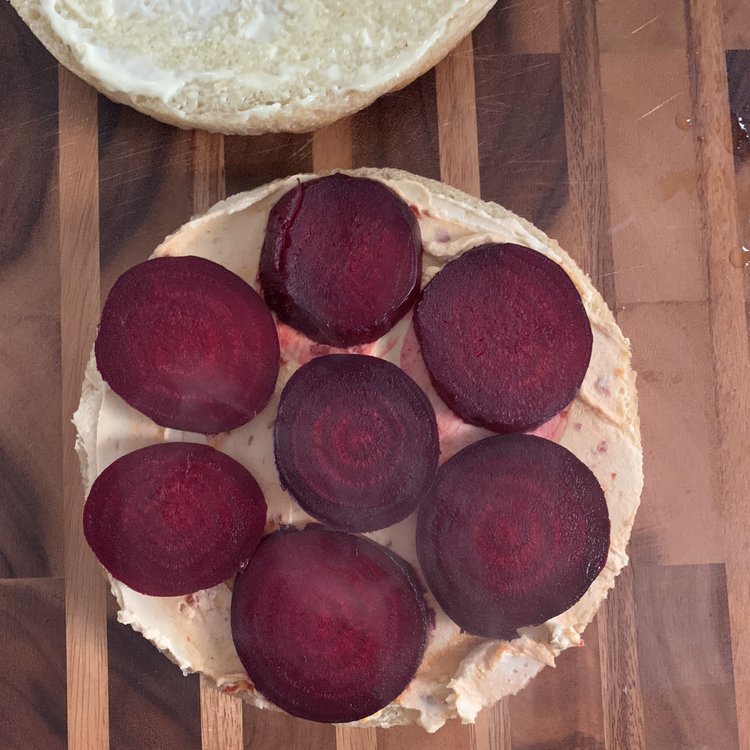 Ingredients:
2 pounds (about 3 to 4 medium) beets, cleaned + greens removed
2 to 3 teaspoons olive oil
Salt
Pepper
2 tablespoons bourbon
Directions:
Rub the beets with 1 teaspoon of the olive oil, sprinkle them with salt and pepper, and place them on a large piece of aluminum foil. Close the foil around the beets, but leave a small opening.
Pour the bourbon into the opening in the foil, then pinch it closed and place the foil pouch, seam-side-up, on a second piece of aluminum foil. Wrap it tightly so the bourbon doesn't spill out.
Set your air fryer to high (my machine is 400°F on high), and set the timer for 40 minutes. Cook the beets until they are fork tender (my beets took 38 to 40 minutes).
Remove the beets from the machine and unwrap the foil to allow them to cool. Once they are cool enough to touch, place the beets in a clean kitchen towel and gently wipe off the skins (the towel will be stained, so use an old one).
Slice the beets, drizzle them with the remaining olive oil, and sprinkle them with salt and pepper.
Add them to your favorite salad or sandwich, or enjoy them as a stand-alone side.
See what everyone else made ♥