While I'm definitely a summer girl, and I hate to see it go, this year's record heat-scorching days have me ready to hunker down with cooler temps and cozy blankets.
So, to bid adieu to summer, I am creating a summer-sliding-into-fall cocktail!
It has the sweet juiciness of summer (or spring) fruit, and the warmth of bourbon—which screams fire pit and friends to me in a very fall way.
To round it out, I've added a little ginger beer to really drive those autumn spice notes into the mix!
I love freezing fresh fruit from summer to have to enjoy during cooler temperatures. Because of that, I had some delicious blackberries already stocked in my freezer!
Blackberry is actually Kentucky's state fruit, which is part of the reason we call ourselves Bluebird + Blackberries!
Damaris, Terra, and I are the blackberries (Kentucky being our home state) and Nikki lives in New York, where the bluebird is the state bird.
Since we are celebrating our two year blog-aversary, we wanted to incorporate blackberries into our recipes once again to "recipe remix" it up!
So I've added not only blackberries, but also bourbon—to represent my home.
I think what I'm looking forward to the most this fall in Kentucky are walks in the crisp air, chatting with friends in quaint, warm settings, and all of the fall festivals!
These are the last couple of months to be as comfortable outdoors as possible before it gets more challenging to motivate myself to go outside…
This drink was perfect for sitting in candlelight on this newly fall, rainy night; cuddled under a blanket, watching a movie. I could read, but tonight is for totally relaxing and being lazy. I like to call it self-care. Lol.
A couple of notes about cocktail making…
I didn't have a muddle for the blackberries, so I used the wooden spoon while cooking the simple syrup, and also a tiny rubber-coated whisk once the berries were cooled. And I used a vegetable peeler for the lemon twist, as I don't have that little bar tool that makes curls.
I hope you decide to sip this cocktail as you say goodbye to summer 2019, gratefully reminiscing the experiences, and at the same time getting excited about your fall future!
Cheers!
Becca's Kentucky Bramble
servings: One 6-ounce cocktail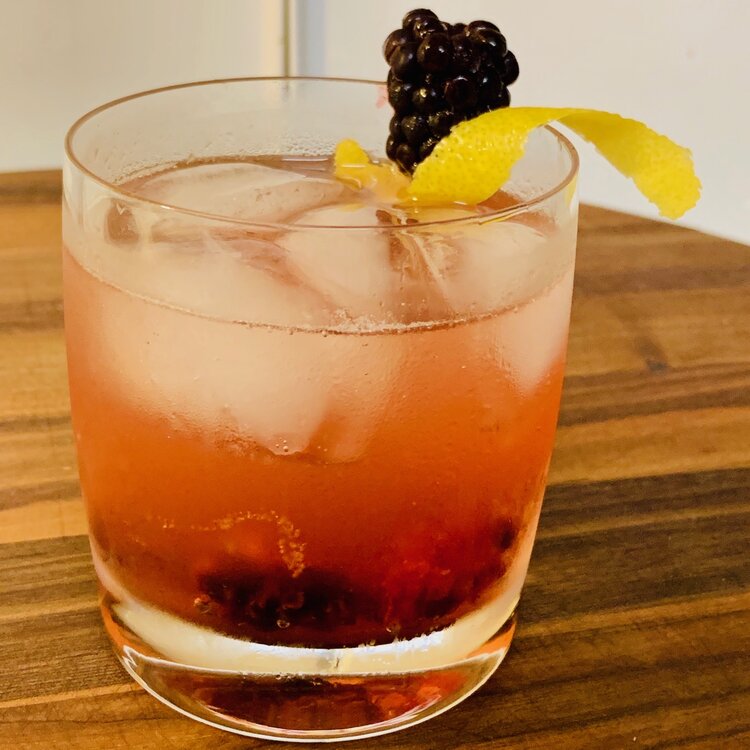 Blackberry Simple Syrup (Optional):
1 cup blackberries, fresh or frozen
1 cup sugar
Bramble:
2 ounces Kentucky bourbon
1½ ounces fresh lemon juice
1 ounce Blackberry Simple Syrup (optional)
Ginger beer or soda
Lemon twist, for a garnish
Blackberry, for a garnish
Blackberry Simple Syrup (Optional):
In a small saucepan over medium-high heat, heat the blackberries, sugar, and 1 cup of water.
Bring the mixture to a boil, and continue boiling for about 5 to 7 minutes.
Strain the mixture through a fine-mesh strainer, storing the leftovers in a jar, or a bottle with a lid (see below for blackberry syrup ideas!).
Bramble:
Add 1 tablespoon muddled blackberries (from the boiled syrup, or fresh) to a glass.
Add the bourbon, lemon juice, and syrup (if using). Give the cocktail a gentle stir, so as not to bruise the bourbon.
Add ice to the glass, and top the cocktail off with your desired amount of ginger beer or soda (I used about 2 ounces in mine).
Garnish with a lemon twist and a blackberry. Enjoy!
Notes:
You can use leftover blackberry syrup in many other recipes—beverages like coffee, tea, soda, or smoothies. Blackberry syrup can also be used as topping for desserts, or anywhere else you would use simple syrup!
See what everyone else made ♥