It doesn't seem like two years have passed since we created Bluebird + Blackberries. It has been fun, frustrating, exciting, and such an enjoyable experiment in community building…
So to celebrate 730 days of existence, I decided to make a blackberry cocktail!
I love Bellinis—which are traditionally made with Prosecco and peach purée—but you can put a twist on the classic by using other fruit purées or sparkling wines.
Blackberry season is over in Kentucky, so I decided to use frozen blackberries. They work fine for this recipe because you use the blackberries to make the purée for the drink.
I also used lavender buds and lemon curd to create the purée. Subtle citrus and floral notes go wonderfully with the blackberries and bubbles!
I threw it all into a blender with a little water and sugar, and blended until smooth.
Once it was mixed up, I strained the purée through a mesh strainer to get rid of all the seeds and lavender buds.
The recipe makes about 2½ cups, which is plenty of purée for throwing a celebratory party!
This is a very affordable sparkling cava that works well as the cocktail's base.
To serve, I added an ounce of purée to the bottom of a champagne flute…
Then I slowly filled the flute with cava.
It will bubble up, so seriously pour a little, and then a little more, and then a little more—until the liquid reaches the top.
lavender flower for garnish, and…
The result is an easy-to-make cocktail that's also very pretty.
And as an added bonus, it tastes great!
So here's to another two years of fun, friendship, and trying our best to figure it all out. ♥
Blackberry Lavendar Bellinis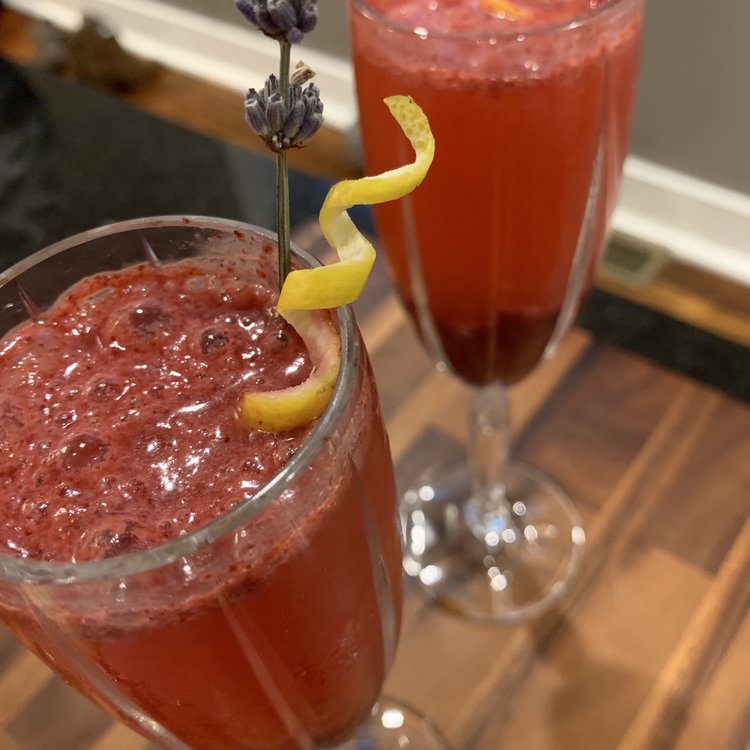 Ingredients:
1 heaping cup frozen blackberries
¾ cup lemon curd
4 tablespoons sugar
1 teaspoon lavender buds
2 bottles sparkling wine
Lemon zest curls, for a garnish (optional)
Lavender flowers, for a garnish (optional)
Directions:
To a blender, add the blackberries, lemon curd, sugar, lavender buds, and ¾ cup water.
Blend until smooth; if the mixture is too thick, add up to ¼ cup more water.
Strain through a mesh strainer.
Add 1 ounce of the blackberry purée to the bottom of a champagne flute, then fill to the top with sparkling wine. Do this in stages, as it tends to bubble up quite a bit.
Garnish the cocktail with lemon zest and lavender flower.
"Cheers!" someone and get ready to celebrate!
See what everyone else made ♥