Two years!
Two years since writing our first post and heading down this path that is Bluebird and Blackberries!
For me personally, a lot has changed. The most obvious change is that I've added two babies to the mix. I remember when we first started and I thought time was tight with my oldest (and at that point only) daughter.
Well two years later, it's at a whole new level.
Having less time translates to less homemade meals, and my own health struggling a bit.
It's often 8 p.m. when my husband looks at me and says, "What's for dinner?" And I simply shrug my shoulders.
The only not-totally-hectic time I have is when the babies go down for their first nap, my daughter is at school, and there is some real quiet in the house.
It's times like those when I decide to actually make a hearty and healthy breakfast—as jam-packed with good-for-you stuff as possible.
That way, even if everything else goes to crap the rest of the day, I can feel good about the fact that I got all sorts of good stuff for breakfast.
Now let's be clear, this does not happen every day, but I've been trying not to be "all or nothing" about my health.
So if it's once a week or once a month, I still give myself a pat on the back.
I couldn't help but be inspired by my original recipe for Sweet Potato Cakes with Blackberry Tomatillo Salsa.
So for this new recipe, I started with some basic oatmeal and added in some puréed sweet potato that I had on hand for the babies (you can also just microwave a sweet potato and scoop it out into your oatmeal).
I love oatmeal because it's an easy place to hide some things—like flax seeds, hemp seeds, collagen… whatever floats your boat!
You need to put these things into something, and oatmeal is the perfect and perfectly tasty vehicle.
A blackberry tomatillo syrup is super easy to make (blackberries, tomatillos, lemon, and sugar), and adds sweetness while still allowing for an acidic punch that brightens up the oatmeal.
Combine this all with some granola and a couple of fresh blackberries, and it's got all the textures, all the flavors, and all the everything you could want. I might not eat like this everyday, but today is a good day.
Happy Anniversary, Terra, Becca and, Damaris. ♥
Healthy + Hearty Blackberry Oatmeal
makes: 2 servings of oatmeal, plus ¾ cup jam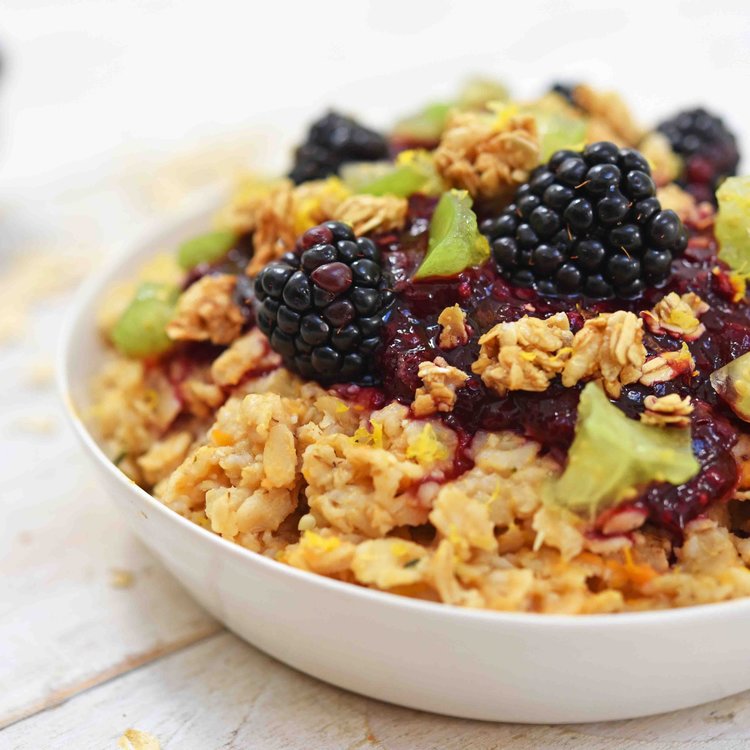 Blackberry-Tomatillo Jam:
½ cup frozen blackberries
¼ cup granulated sugar
2 tomatillos, chopped (reserve ½ chopped tomatillo for a garnish)
Juice of half a lemon
Pinch of kosher salt
Oatmeal:
1½ cups rolled oats
1 teaspoon kosher salt
¼ cup sweet potato puree
1 tablespoon hemp seeds
1 tablespoon flax seeds
½ cup Blackberry-Tomatillo Jam
½ cup fresh blackberries
½ cup granola
½ raw chopped tomatillo (reserved from the jam)
Lemon zest, for a garnish
Blackberry-Tomatillo Jam:
In a medium pot over medium-high heat, add the frozen blackberries, sugar, the 1½ chopped tomatillos, ¼ cup water, lemon juice, and pinch of salt. Bring the mixture to a simmer, stirring occasionally, and as the fruit breaks down, use the back of a spoon to smash the berries. Reduce the heat to low and continue cooking the mixture until thickened, but still loose for a syrup (it will thicken even more as it cools)—about 6 to 7 minutes.
Oatmeal:
Bring 3 cups of water to a boil, then stir in the oats and salt. Reduce the heat to a simmer, stirring occasionally until the oats absorb all of the liquid—about 5 minutes. When the oats are soft, add the sweet potato puree, stirring to combine and warm everything through. Then remove the oatmeal from the heat and add the hemp and flax seeds, stirring until combined.
To serve, divide the oatmeal into two bowls. Top each bowl with ¼ cup of the Blackberry-Tomatillo Jam. Then top with the fresh blackberries, granola, remaining tomatillo, and lemon zest.
Notes:
The recipe makes more jam than is needed for the oatmeal. Save the extra jam in your refrigerator to use as you wish for up to two weeks.
See what everyone else made ♥