Christmas rolled around this year and I ended up gifting an Instant Pot to two different people—which is pretty funny considering I didn't own one and had never cooked with one. But the reviews were in and people were going crazy for this thing! I mean, who doesn't want to make pulled pork in 45 minutes instead of 6 hours?!
This whole pressure cooking craze is about time. We have so little of it, and so cooking something in a fraction of what it would normally take—giving us back a little of that time—is truly thrilling.
I've never been as out of time as I am these days…
I'm actually writing this with one baby on my lap and one at my feet. I thought I was busy before, but now I know what it's like to truly be at capacity. I miss texts, forget to email people back, and when I do have moments of downtime, tend to be so frazzled I don't get done what I really need to get done (instead I end up organizing my cleaning products).
Journaling has helped, and the biggest lesson I'm learning is to be constantly prioritizing.
And sometimes cuddling a baby needs to be the priority, and the 5,689 other things can wait.
After 17 years in the middle of Manhattan, I was so excited in September to move, and finally be able to plant a massive garden, have chickens, make jam, do some canning, juicing, and dehydrating.
And also taking all of my cooking scraps and making the most delicious stock!
Yet here I am, six months in and I can barely throw together dinner a couple of nights a week.
I'm obsessed with the idea of making stock because if you have good stock, you have good food.
With the right stock, you have instant soup, rich and nutritious grains, pasta sauces, and more. Good stock will add flavor to everything. And it's so nutritious—it's been proven to help your gut, your sleep, your hair, nails, and more.
And no, besides a few exceptions, anything you're getting at the grocery store doesn't do the same.
The only reason I don't make more broth at home is because it means having your stove on for anywhere from 4 to 48 hours to extract all the goodness from the bones and veggies. And that is just time I don't have.
After gifting those Instant Pots, I ended up buying one for myself, but I returned it before using it because shortly after I was introduced to the Foodi, which is a pressure cooker AND an air fryer.
Now I can cook that pulled pork and get crispy bits.
To start my stock I needed bones, so I decided to try a roast chicken in the Foodi first, using a Herb-Roasted Chicken recipe.
Along with the chicken, I added some hot water, honey, lemon juice, thyme, and black peppercorn to my Foodi, pressure cooked everything for 20 minutes, then air crisped for ten.
I now had all the bones I needed for my broth!
And was feeling pretty excited to throw a roast chicken in front of my husband for dinner!
The next day I combined those bones and the drippings I got from cooking the chicken with celery, carrots, onions, thyme, garlic, black peppercorns, and water—all in the Foodi, and then sealed it up.
Fifty minutes later I released the pressure. It took longer to release the pressure than it did when I cooked the chicken the day before, and it was steaming up the place!
But the aromas wafting from the Foodi were seriously mouth-watering.
My stock is SO good.
I've honestly never made stock this good, mostly because I've never had the patience to cook it for more than a couple of hours.
For the sake of science, I decided to cook the stock for 30 minutes more to see if 50 really was enough.
After another steam facial as I released the pressure, I discovered the extra time didn't add much of a difference in the flavor department. Which means that…
I just made legit stock in less than an hour!
We had soup that night, rice cooked in stock the next day, and a pasta with chicken stock, garlic, and broccoli the day after that.
I may still feel frazzled, but my meals are making me look like I got my $h!t together!
There are plenty of people that would tell you to do it the old fashioned way, but I'm fine with adjusting and will take all the help I can get.
Pressure Cooker Chicken Stock
servings: 9 cups of chicken stock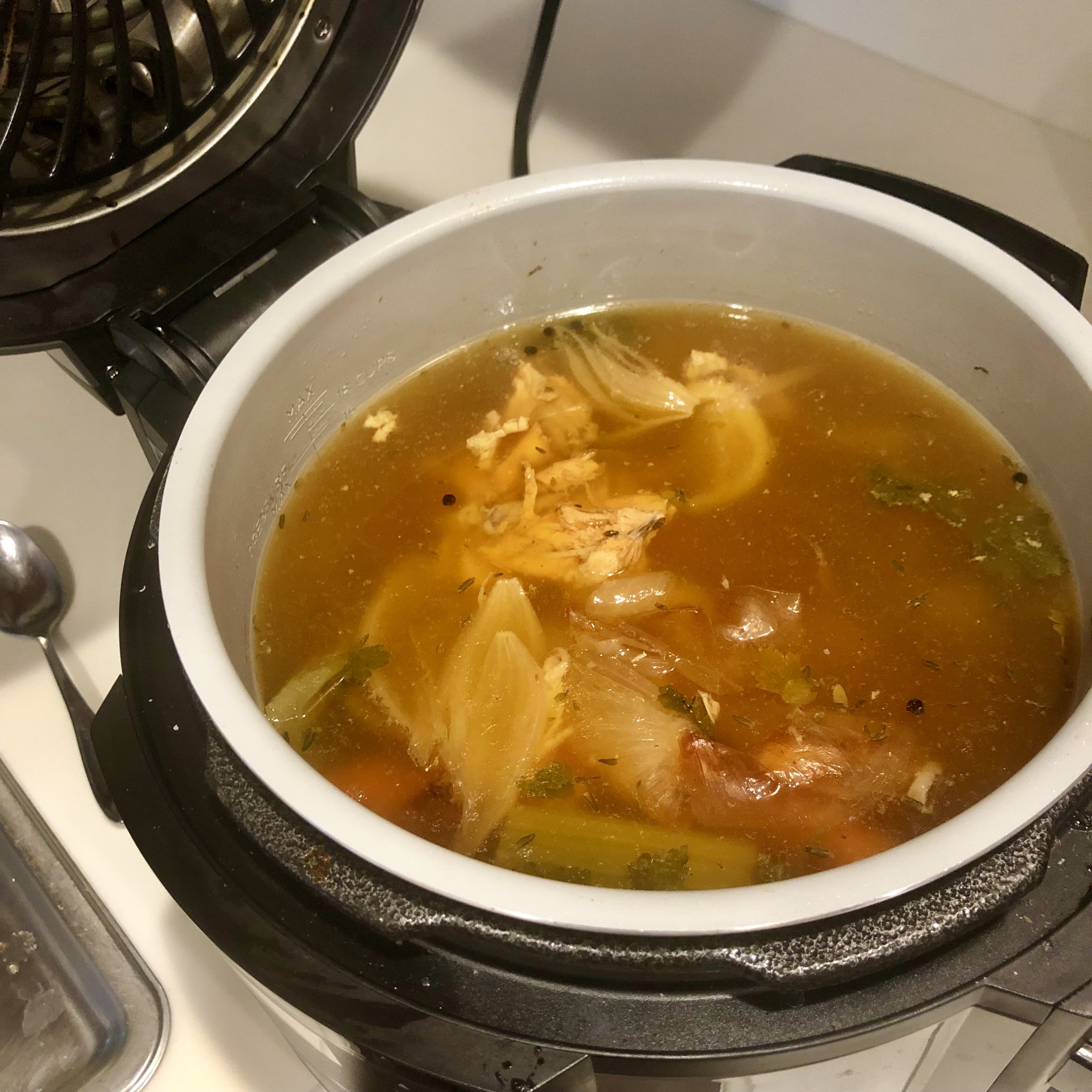 Ingredients:
Bones from a 4-pound roast chicken
3 medium carrots, coarsely chopped
1 medium onion, halved
2 ribs celery, coarsely chopped
8 garlic cloves or 1 head of garlic, cut in half
1 tablespoon black peppercorns
5 to 8 sprigs of thyme
Kosher salt, to taste
Directions:
Place the bones, carrots, onion, celery, garlic, peppercorns, thyme, and salt into the pot of a pressure cooker.
Fill the pressure cooker with 14 to 16 cups of water, or until it is ⅔ of the way full.
Cook the stock on High pressure for 50 minutes, then release the pressure, strain, and season to taste. Enjoy!
See what everyone else did ♥