Being a busy single Mama, I am always on the lookout for quick meals and recipes that are delicious but also healthy!
The ladies and I wanted to jump in and see what this Instant Pot craze was all about, so this challenge seemed like a great opportunity to discover a new quick and healthy recipe!
Especially for vegans, one of the most popular things people seem to make in their Instant Pots is soup. But I wanted to find something a little heartier, that also fit the bill for being packed with nutrition.
When I was about 6 or 7, my mom stopped working to stay home with my siblings and I.
She was always so great at cooking. Dinnertime was amazing because she always threw down a good home-cooked meal (and there was usually a dessert floating around too!)!
But she never had a pressure cooker—unless you call four hungry kids constantly asking for food a pressure cooker. Haha!
I think my mom is the reason I fell in love with cooking. She made it feel easy and soothing.
I knew that someday I would want to be able to bring that same level of comfort and care to my child(ren).
This recipe definitely brings all of those elements together.
One of the things I do recommend for this recipe is using brown or French lentils. The red, yellow, or green lentils will turn to mush in your pressure cooker or Instant Pot.
Another tip—to make the recipe even simpler, you could add frozen, diced onions instead of chopping your own.
I am thrilled about this week's recipe because it is not just delicious, quick, and healthy—it's also a one-pot meal! And it's full of great protein and qualifies as kid-friendly!
If all of this isn't a #win, I don't know what is!
Without further ado, please enjoy this warm, comforting, full-of-love-and-nutrition meal that's sure to be a new favorite!
Vegan Lentil + Mushroom Sloppy Joes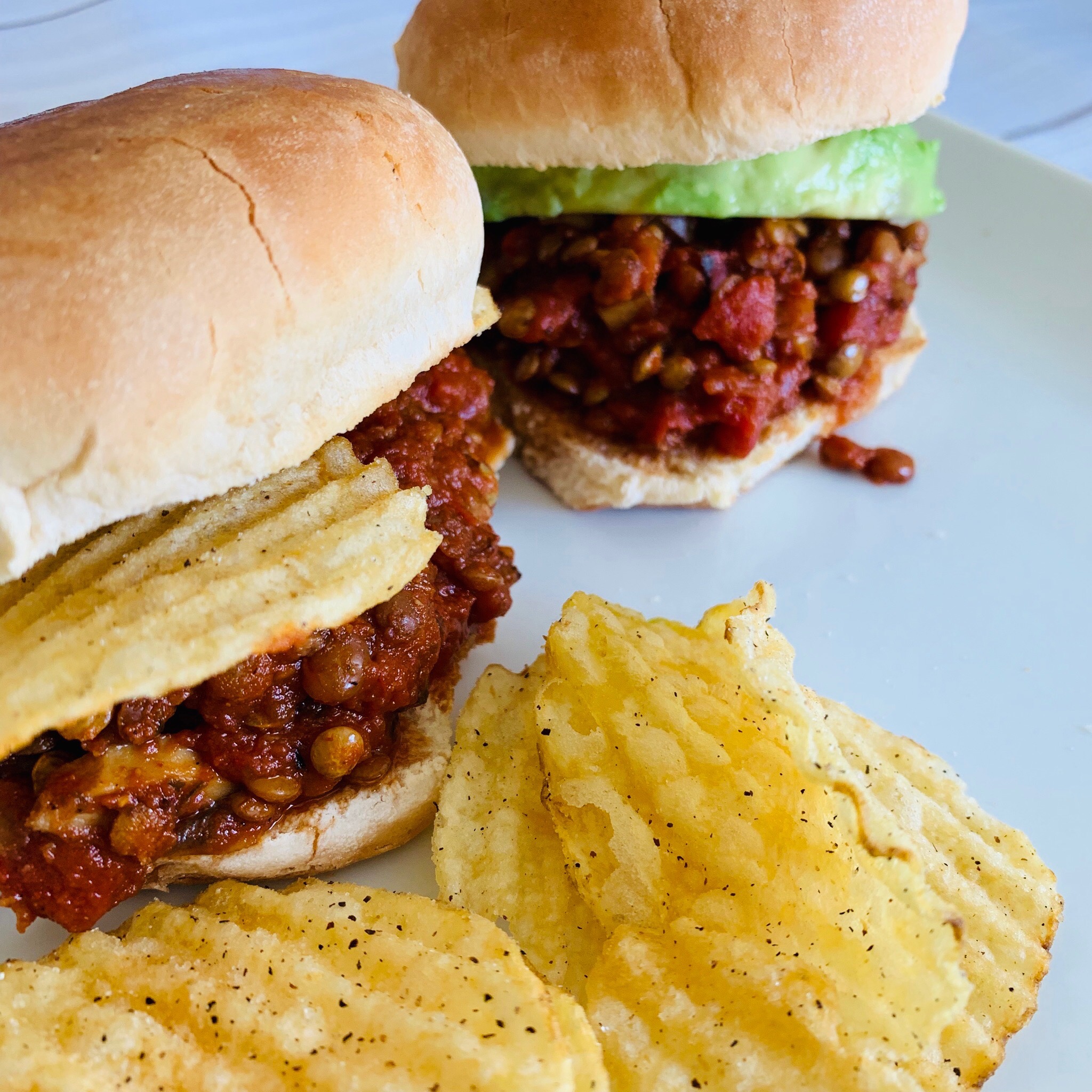 Ingredients:
1 tablespoon oil (I used Grape seed)
1 small yellow onion, diced
1 cup mushrooms, diced
3 garlic cloves, minced
1 tablespoon chili powder
1½ teaspoons oregano
1½ teaspoons celery flakes, optional
1 teaspoon paprika
1 teaspoon sea salt
½ teaspoon ground black pepper
1¼ cups vegetable broth or water
One 28-ounce can fire roasted, crushed tomatoes
1 cup dry French or brown lentils
3 tablespoons vegan Worcestershire sauce
2 heaping tablespoons tomato paste
1½ tablespoons yellow mustard
½ to ¾ teaspoon liquid smoke
1 to 2 tablespoons brown sugar or pure maple syrup, optional
Directions:
Set your Instant Pot to the Sauté function, then add the oil.
Once the oil is hot, add the onion and sauté it for 2 minutes. Then add the mushrooms and garlic and sauté for another 2 minutes.
Add the chili powder, oregano, celery flakes (if desired), paprika, salt, and pepper. Stir to coat the veggies with the spices, then turn off the Sauté function.
Add the broth (or water), tomatoes, lentils, Worcestershire sauce, tomato paste, and mustard, stirring well to combine.
Lock the pressure cooker's lid in place and make sure the steam release handle is closed. Set the cooker to Manual High Pressure for 12 minutes. The Instant Pot will take roughly 10 minutes to build pressure; after that, the timer will start counting down.
Once the time has ended, you can let the pressure release naturally, which will take roughly 20 minutes. Alternately, you can wait 3 to 5 minutes and then gently manually release the pressure. If you manually release the pressure, the lentils will be done; they will be very slightly more al dente, but shouldn't be hard.
Once the pressure has been released (you will know pressure has been released when the float valve has dropped back down), slowly unlock and remove the lid. Stir all ingredients to combine.
Add the liquid smoke, stir and taste. If you find the mixture too acidic, add 1 tablespoon of the brown sugar or maple syrup to balance it out. Stir to combine and taste again, adding another tablespoon if needed.
Serve on the buns of your choice with the toppings and sides of your choice.
Notes:
I used a mix of Bella, white and shiitake mushrooms from a package. Feel free to use the same mixture or just one kind—whatever is your favorite!
Or if you decide to leave the mushrooms out, add another ¼ cup of broth (or water).
I used French lentils as they are hearty, have a nice bite, and hold up well in this recipe.
Recipe adapted from Smoky Lentil Sloppy Joes recipe on Delightful Adventures Web site.
See what everyone else made ♥