My family loves to grill and have a fun get-together for Labor Day.
We all bring a dish or something to throw on the grill, and just chat and have a great time. This comes from my mom's love of grilling. She looks for any excuse to have a cook out!
The only thing is, this year I won't be here for it! I'm going on my first vacation in almost a decade!
While I'm super excited to go, I'm a little bummed I will miss the family gathering.
But I'll be sure to toast them with my margarita on the beach, don't worry. Hahaha.
So, with that said, I am trusting my big bro to carry out the recipe I would've made if I were there—Vegan Mexican Street Corn Pasta Salad!
I love this recipe because the vegan version is just as delicious a version with dairy-cheese!
What's even better, is after Labor Day and summer days have come and gone, this recipe is still equally delicious made indoors by charring the corn in a cast iron skillet!
It's not quite pasta salad, and it's not quite corn on the cob—but maybe somewhere in the middle.
So whether you fire up the grill or heat up your cast iron, try this fun spin on a couple of classic summertime dishes!
(Vegan) Mexican Street Corn Pasta Salad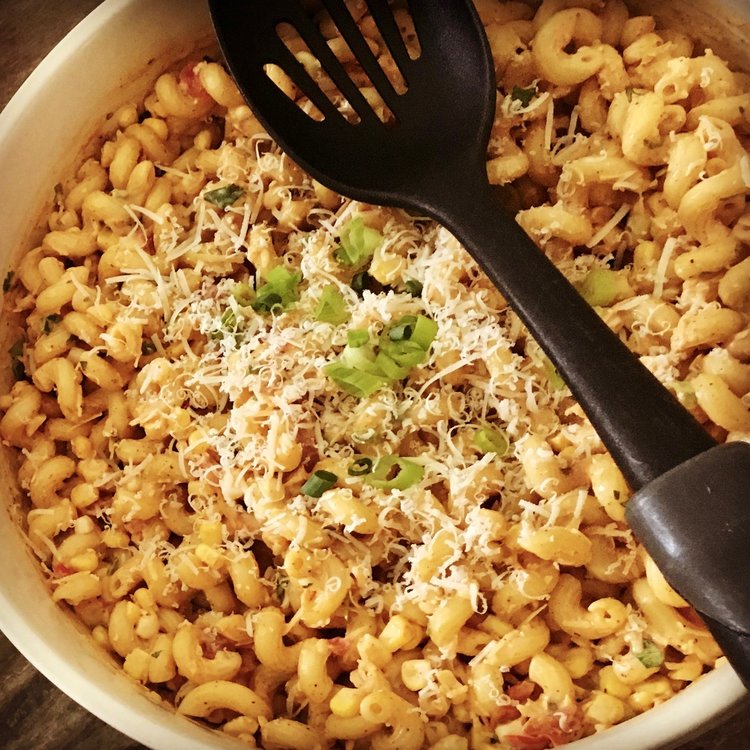 Dressing:
½ cup mayonnaise (I used Just Mayo brand)
3 tablespoons fresh lime juice (juice from about 1 to 2 limes)
1 teaspoon hot sauce (optional)
½ teaspoon chili powder
¼ teaspoon lime zest
¼ teaspoon paprika
salt and pepper, to taste
Pasta Salad:
2 cups small pasta noodles
3 cups of corn (corn from about 3 to 4 ears, cut off the cob)
½ to ¾ cups chopped fresh cilantro
½ cup shredded parmesan cheese (I used VioLife brand)
One 2-ounce jar diced pimentos
3 green onions, chopped
Mexican Street Corn Dressing
½ can black beans (optional)
1 large avocado diced (add just before serving) (optional)
1 tablespoon finely chopped jalapeño (optional)
¼ to ½ teaspoon liquid smoke (optional)
Dressing:
To a small bowl or a jar with a lid, add the mayonnaise, lime juice, hot sauce (if desired), chili powder, lime zest, and paprika. Whisk or shake until well combined, then taste and add salt and pepper to your liking.
Pasta Salad:
Cook the pasta according to the package directions, then drain and rinse it in cold water and allow it to dry. Once cool and dry, add the pasta to a large bowl and set it aside.
Heat a cast iron or regular skillet over medium-high heat until it is very hot—3 to 4 minutes. Add the corn kernels to the skillet and sauté them until they are slightly browned, stirring occasionally—about 5 minutes. If the corn becomes too charred, add 2 tablespoons of oil, or turn the heat down to medium.
To the bowl with the pasta, add the corn, cilantro, parmesan, pimentos, and onions, along with the Dressing, and stir until well combined. If you wish, you can also add the black beans, avocado, jalapeño, and liquid smoke.
Notes:
This recipe is for cooking indoors, but alternately, you can char the corn on the grill and cut it from the cob to make this tasty dish!
Instead of parmesan, you can use regular Cotija cheese, queso fresco, or feta. You can also use regular mayo in place of vegan mayo. And sub a gluten-free pasta in to make this dish gluten-free!
See what everyone else made ♥